This 9-year rise in the stock market has been called "the most hated stock rally ever."  Maybe people are so scarred by the Great Recession that they can't believe good news will ever happen again in the stock market.  Even though it's been happening (at least in the U.S. with only minor hiccups) for 9 years.
Here's the reality.
People are always telling me the stock market is getting ready to drop.  "It CAN'T go any higher," the people tell me.  Well, guess what – it CAN go higher, and in fact historically, it HAS always gone higher.  In general.  And with some recessions along the way.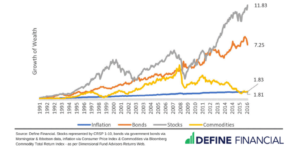 Hey, I'm not suggesting we will never have another recession.  We will, and they will happen about every 7-8 years and last about 12-18 months.  For the REST of your LIFE.  So stop being so hysterical.
Is this fluctuation normal??
Just like summers are followed by hurricane seasons, the economy is cyclical.  Do you quit enjoying summers because it may rain later?  No!  The best thing to do is get your portfolio ready, and be prepared to ride out the rough seas to get to the lovely tropical island on the other side.
Get your portfolio ready.
The first method to getting your portfolio ready for the next U.S. recession is good old-fashioned diversification.  By that, I mean owning investments that don't behave the same as the U.S. stock market.  These can be things like bonds, real estate, international stocks.  Even small and medium sized U.S. companies have different price swings that large U.S. companies.  Work with your financial advisor (or even online tools) to come up with a mix of investment types that makes sense for your time horizon.
Another old idea is called the Anchor Strategy.  This is useful for money that you'd like to see grow, but have a very specific time horizon for it's use.  For example, let's say you want to buy a second home in 10 years and you have $50,000 saved.  You don't want to put your $50,000 at risk, but you'd like to see some growth.
The Anchor Strategy has you buying enough Zero-Coupon Bonds to grow back to your original $50,000 in 10 years.  You could buy 50 10-year maturity zero-coupon Coca Cola bonds at $948.00 each or $49,200 (quote from Fidelity.com on January 17, 2018).  That investment should grow back to the original $50,000 in 10 years, assuming Coca Cola stays in business.
The remaining $10,100, you could put into an S&P 500 index fund.  Say, you averaged 7%/year over the next 10 years on the Index Fund investment.  You'd have $19,800 from that part of the investment pool. The total investment in this example would grow to just under $70,000 with very low risk.  Granted, the return isn't all that great, either, but the peace of mind is there.
Again, none of this is personalized investment advice to you, but could provide some talking points the next time you meet with your financial adviser.