Last week, I wrote about choosing mutual funds based first on the area of the investment market where they specialize, not just based on returns.  But how do you know if the fund you are researching is in the area of your portfolio that you are looking to fill?
There is a well-known tool called the Morningstar Style Box™ that gives use x-ray vision into a mutual fund's investments.  It's a simple 3 by3 box with a dot in one of the nine boxes to indicate the area of the stock or bond market a particular fund invests in.  For example, this box shows a mutual fund that invests in mid-sized companies with a blend of Growth and Value stocks: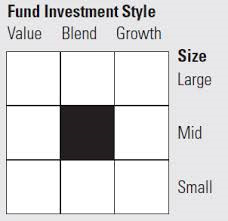 There's a style box for bond funds, too.  This picture shows a bond mutual fund that concentrates money in longer term bonds of medium quality companies.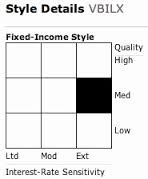 You can find Morningstar Style Boxes on www.morningstar.com, of course, but pretty much every investment website uses them to help consumers figure out what the fund management is up to.
Try it on your own portfolio.  Look up all the funds' style boxes.  If you have 5 funds with the squares colored in the same places, you aren't as diversified as you think!
---
Stay Informed and Educated! Click Here to Subscribe to the SFP Blog