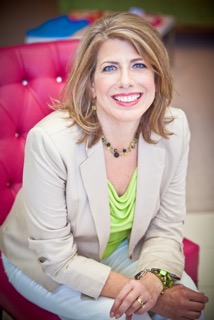 People often ask, "Kristi, how do I look fabulous while keeping my financial goals on track?"  Okay, that never really happens, but it's a fun blog topic!  Here are some fashion on a budget tips from my friend and professional image consultant, Dana Lynch (www.elementsofimage.com).
Q:  What are fashion purchases that should be avoided because they are usually a waste of money? 
Dana:  The biggest waste of money is an item you don't love and feel great in.  Buying something because it's "a deal" doesn't make any sense unless you're excited about the item, you know it's your personal style, and it will go with at least one other thing in your wardrobe.
I don't believe in buying trendy clothing at cheap prices thinking you'll only wear it a few times and then throw it away. First, it's not sustainable for the environment.  Poor quality clothing won't hold up for more than a couple of washings, so then it can't even be donated for someone else to wear. Those kinds of pieces don't represent your quality personal brand. If you want to experiment with trends, consider whether it will last more than a season or two and then don't break the bank on it, but spend enough that the item is of decent quality.
Q:  What are some wardrobe staples that are worth an extra investment?
Dana:  Basics in 3-season fabrics. The items are mostly neutral colors and are simple in design, so they will mix and match with most things in your wardrobe. Although I'm listing these pieces as "black,"  your favorite neutral color will also work. They include: the Little Black Dress, black blazer, black pants, black skirt, white blouse, cardigan, hoop earrings (your favorite metal,) black pumps, and a dress coat. And in today's casual environment, a great fitting pair of jeans made from premium denim! (Trust me…there's a difference!)
Q:  How can working with an image consultant such as you help actually save money on clothes? 
Dana:  An image consultant has no sentimental attachment to your current clothing that isn't serving you. Learning how to look at your style, body, and wardrobe in a more objective way can help you save money because you'll be more certain of future purchases. You'll wear what you buy!
When I shop for clients, I have their personal style, body type, lifestyle, needs, and budget in mind. You won't be trying on clothes for an imaginary life or what the fashion magazines are dictating. It's important to choose a variety of clothing that mixes and matches well and covers a broad range of activities. You will have fewer clothes (if that's what you want,) and you'll wear them all.
An image consultant is also familiar with quality brands, so in the long you save money by helping you purchase fewer, higher quality pieces that look great in that can be worn in more ways than you ever thought possible!
Thanks, Dana! For more ideas, check out Dana's website at http://elementsofimage.com.