The Alliance Foundation Fundraiser: Join me for lunch!

The Alliance Foundation
I am proud to be a part of the Alliance Foundation whose mission is to help women become economically empowered so they may move themselves out of poverty, homelessness, abuse, or addiction.
The Alliance Foundation funds three efforts:
College scholarships for 3 Denver women in their Junior and Senior years who need help to complete their degrees.
Local charities such as Arapahoe House, The Delores Project, and Girls on the Run.
Microcredit loans to women in developing countries. A loan of $100 can help a woman in poverty start a farming, textile, or retail business and create economic stability for her family and neighbors.
How you can help
Our annual fundraising luncheon is taking place at the PPA Events Center on September 14th at 11:30 a.m. – 1:00 p.m.  There is no cost to attend (a $35 value!) and there will be a kind ask for financial support at the end of the luncheon.
We are thrilled to welcome our keynote speaker, Rebecca Chopp who is the Chancellor of the University of Denver system.  She will be talking about trends and changes in college education and women's leadership roles and responsibilities.
If you'd like to attend, CLICK HERE OR ON THE IMAGE BELOW: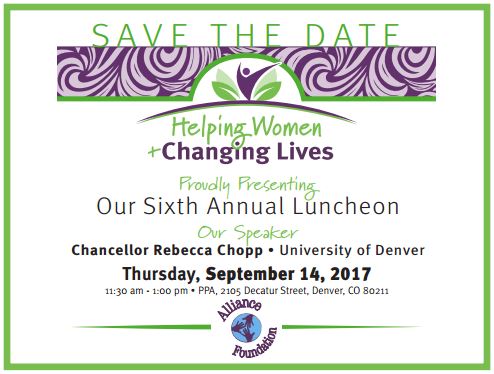 If you can't come, but would like to be a philanthropist making huge change for women in need, you can donate through the Alliance Foundation home page.  Look for the green Donate Now button.
Thank you for your consideration!  I hope to see you in September.