Financial Wellness Classes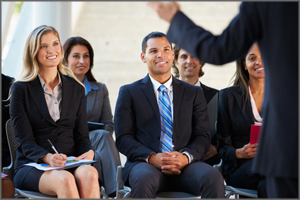 Do you think getting financial education has to be boring and monotonous? Or maybe you think of getting financial advice as being screamed at by a television day-trading know-it-all. Good news! It doesn't have to be that way.
For over 15 years, I have been helping groups make sense of financial mumbo-jumbo and gain confidence to take control of their finances.
My presentations include real world examples, humor, and plain talk to make complex ideas seem approachable and even fun for any kind of audience.
Presentations available are:
Investing Basics
Intermediate Investing Concepts
Budgeting and Credit Scores
College Savings Options
How to Save for Retirement
Juggling Multiple Savings Goals
Behavioral Finance
Women and Investing
Planning for the Pre-Retiree
Your Money/Your Partner: Combining your Finances
Contact me if you have a group of employees, an event, or a conference where financial education would enhance your programming!